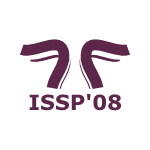 Practical Information
ISSP'08 conference will take place at the
Ciarus
facilities.
Please be advised
that registration fees include fullboard accommodation from December 8th morning to December 12th afternoon, proceeding, social event and banquet. Any extra night will be at the expenses of the participants (i.e. the night of the 7/12/2008, dinner of the 7/12/2008 and the breakfast are not included).
Based on availability, we can make reservation of the night of 7/12/2008 to 8/12/2008 for the participants only if requested by sending an email to colloques@loria.fr and before 15th October 2008.
Registration fees without accommodation include participation in coffee breaks and lunches.
Ciarus
7 rue Finkmatt
F- 67000 Strasbourg
Tel : +33.(0)3.88.15.27.88
How to get there...
Information on how to get to Ciarus by train, airplane and car can be found here
More information about the city of Strasbourg, accommodation, tourism, etc, can be found on the website of the Office de Tourisme de Strasbourg.
You will find on the map some surrounding hotels.
Important: Please note that registration fees include fullboard accomodation during the conference.